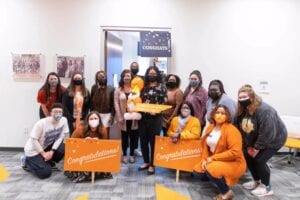 Each year a select few undergraduate students are surprised with the Torchbearer award—the highest honor presented at the University of Tennessee. 
Students are awarded based on academic achievement and commitment to the university and Knoxville community. 
Taylor Boyer was named a Torchbearer a few weeks ago, but she says that it still hasn't completely set in. Now, she is sharing her message so that others can succeed just like she has: 
"I know it can be a little daunting to go to a school this big, but the way I found it to navigate it and make it a home is to get involved in so many different areas. So, you have all these little friend pockets all over campus, which is really nice and rewarding. Also, I encourage people to get involved in the Knoxville community—I think Knoxville has so many different opportunities to offer. From parks to local restaurants, to local shops, and so many local nonprofits. Also, I encourage those upperclassmen to mentor those younger students so they can make the most of their time here at UT." 
Five other seniors were honored with this award:
Natalie Campbell
Trey Smith
Maria Urias
Madison Woods
Tyler Young
From all of us at UT Today to all of this year's recipients, we want to congratulate you on your dedication to this university and showing others what it means to be a torchbearer. 
Reporting